The Desmadreization of Xólotl Zapata
Review: Ernest Hogan.
High Aztech
. Smashwords, 2013.
Link here.
Michael Sedano
While it's trite to call a novel "unique" you'd have to go all the way back to 1962's
A Clockwork Orange
to read a novel anywhere similar to
Ernest Hogan's 2013 High Aztech.
There's certainly nothing like
High Aztech
in Chicano Literature, nor the broader U.S. science fiction genre.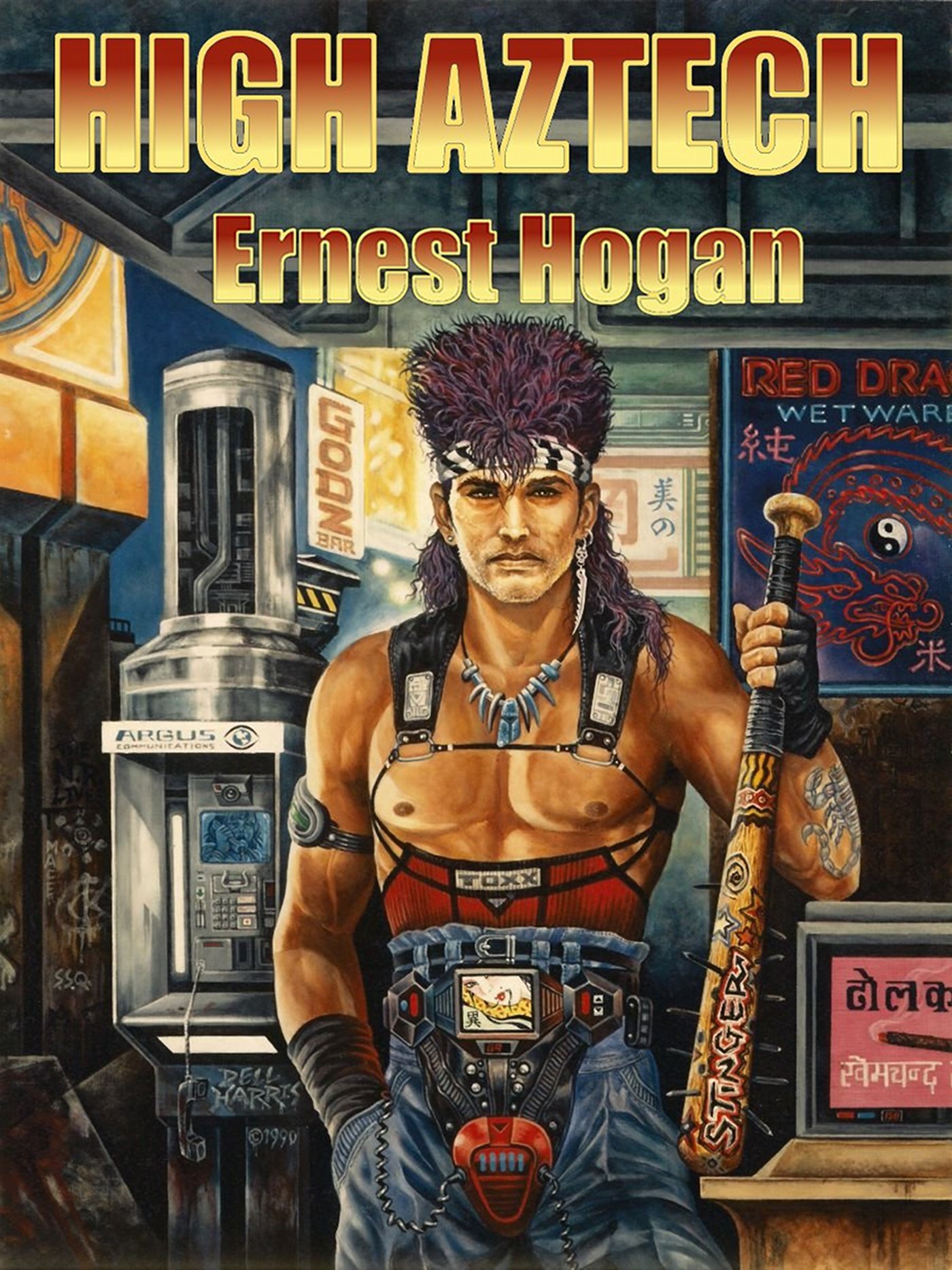 Fans of
A Clockwork Orange
are sure to enjoy
High Aztech
's multicultural dystopia and distinctive Españahuatl dialect. There's horrowshow ultra-violence but the sharp edges are taken off by absurdist humor and the hapless first person voice of thirty year-old Xólotl Zapata.
Hogan jumps the reader into the middle of a xixatl storm, no preamble. Xólotl is tied to a table drugged by an (at this point) unseen inquisitor. The all-seeing government may be Zapata's iniquisitor. Then again, it might be one of the other organizations vying to control Tenochtitlán: The mafia. Or the Iyakuza. Or the Neliyacme. Or the Pepenadores. Or High Aztech itself.
The economical plot effectively incorporates backgrounds and definitions as the narrative unfolds, Hogan rarely stops the action to explain something. The pepenadores, for example, are ubiquitous hazmat-suited ciphers. They recycle trash into useful materials but also phantasmagoric vehicles that give them a fighting chance against their similarly heavily-armed rivals.
Hogan understates the grand irony that los pepenadores, like service workers everywhere, grow invisible to hoity-toity tipas tipos who spill secrets around the help. They make perfect spies and a formidable insurgency. Each of Hogan's thugitome combatants has their quirks and capacities for trouble.
Zapata's girlfriend, Cóatliquita, infects him with a virus. It gives him a compulsion to go around in crowds, like the metro, and touch people, passing along the virus. The government and the rival groups know and want to capture Xólotl.
What ails Zapata is not some Ebola-like plague that kills, but a faith virus developed in Africa, where the world's best science is, that spreads by touch. The virus genetically modifies the brain. Give a Catholic a Catholic virus they ardently reaffirm their faith. Give that virus to a Muslim and you have a troubled convert.
The virus Zapata is spreading reaffirms or converts gente to the neo-Aztec religion that already has an upper hand among the gente. Clearly, the Catholic government wants Zapata off the streets. The other organizations want Zapata, to study and make their own viruses. And kill Zapata.
Zapata as the story begins, lives a semi-famous comic book writer and "a rare literate expert on Españáhuatl." As the virus grows in him he begins thinking of himself as an Aztec warrior and seeks a flowery death every time it looks like he's about to bite the dust. And that happens a lot in ways that bring smiles of a reader's face.
Chaos, riots, sex (but only a hint), surprise, treachery, philosophy, surreality push the plot along. Your head will spin. Zapata is captured, escapes, is captured, escapes, is captured. He's injected with all the religion-inducing viruses in the world. He escapes to spread the resulting virus.
Hogan's writing is at its best in Xólotl's hallucination when all the gods and Gods and goddesses come together during a wild virus-induced religious bacchanal. Readers will find their own favorites.
High Aztech
hits readers with page after page of memorable inspirations from the author's fevered imagination.
The Españahuatl is lots of fun. As a Chicano writer, Hogan has a good feel for code-switching etiquette and uses that in building his extensive Nahuatl Spanish vocabulary. Fortunately, the author abandons appositional translation early on, allowing the code-switched idiom to stand on its own.
Not that gente will have much difficulty with easy cognates like
mamatl
, or
radioactivotl
"hot," horny, or
chilangome
Tenochtitlán inhabitants, pl.
chilangotl
sing. Applying phonetics to other terms will make them readily accessible, like
quixtianome
non-Aztecan religionist, Christian, or
xixatl
for shit. Some words might be decipherable, but real pronunciation challenges, making reading a tongue-twisting "A" ticket ride like the key term, t
icmotraspasarhuililis.
Hogan provides a useful glossary at the back, but leave it for later.
As with any successful science fiction,
High Aztech
provides food for thought, perhaps advocacy, on the roles critical thinking, belief, and syncretism play out in people's contentment with one another. Above all,
High Aztech
is a good-humored story that pushes the boundaries both of science fiction and Chicano Literature and, until more raza start writing genre literature,
High Aztech
is sui generis and merits broad readership.
High Aztech
comes to you as a
publishing initiative by the author's effort
. Click the link for Ernest Hogan's La Bloga column on the venture. Various booksellers distribute the work in these formats: epub, mobi, pdf, rtf, lrf, pdb, txt.
My reading was of the
Smashwords
edition of
High Aztech
,
https://www.smashwords.com/books/view/321713
.
Mailbag, News 'n Notes
It's Happening at a Frontera Near You
Artesia NM • 9/14 - 21
Tara Evonne Trudell
Alas
is a
Border Beads
poetry project that La Bloga friend Tara Evonne Trudell (featured in this week's On-line Floricanto) launches to bring awareness to unconscionable treatment of women and children immigrants detained in Artesia, NM.
Trudell has issued a call for poetry that deals directly with the current immigration and detention travesty.
Trudell and friends fashion prayer beads from the printed poems. They will roll the submitted during a weeklong fast in solidarity with the mothers and children, the week of September 14 through 21.
Submissions are open now. Please submit to
trudellt@yahoo.com
Austin • 9/21
San Benito, TX • 10/4
Date: Saturday, Oct. 4th
Time: 10 am - 6 pm
Location: Narciso Martinez Cultural Center, San Benito, TX
Event Description: This is the first book festival of South Texas which is a collaboration between UT-Brownsville, Mexican American Studies at UTPA, and the Coalition of New Chican@ Artists (CONCA). This space is to reserve a table for small presses, independent bookstores, libraries, etc. The first table is free but if you wish to rent a 2nd table the fee is $50. We have limited space, so this will be handled on a first come, first serve basis.
For more information, contact Christopher Carmona at concavoices@gmail.com or call at 956-854-1717.
Deadline for Submission is September 22nd by midnight.
Guerrero MX • 12/24
From La Bloga friend Reyna Grande:
This December 2014, I will be going to my hometown in Guerrero, Mexico to host a Christmas event known as a "Posada", where I will be giving free toys to all the neighborhood kids! When I lived there in poverty, the posadas were something to look forward to. I have never forgotten the poverty I came from, and how the simplest acts of kindness can change a child's life.
Please help me make this Christmas season special for the children living in my hometown. Starting today, I will be doing a sixty day fundraiser campaign for my Christmas toy giveaway. Be part of the Grande Posada by contributing to my fundraiser!
Please consider donating today or tell a friend! Thank you so much!
Click here for the IndieGoGo campaign.
https://www.indiegogo.com/projects/grande-posada-toy-drive
On-line Floricanto September 9, 2014
Tara Evonne Trudell, Sonia Gutiérrez, Jorge Tetl Argueta, Eva Chávez, Raúl Sánchez, Tom Sheldon
"This Round" by Tara Evonne Trudell
"Grandchildren of the United Fruit Company/Nietos de la United Fruit Company" by Sonia Gutiérrez
"Nuestros niños y niñas / Our Children" by Jorge Tetl Argueta
"Faces Under the Shadows / Rostros bajo las sombras" by Eva Chávez; edited by Raúl Sánchez
"Poetry Is" by Tom Sheldon
This Round
by Tara Evonne Trudell
this round
will go
to mother earth
she who
prevails
and survives
pain
she who
takes destruction
and rebuilds
finding her
way to grow
continually
defying
all odds
against her
she not trying
to hide
her beauty
pure
in nature
giver of life
battling
jealous gods
and bible words
forever
captured in
man's greed
and corruption
the pain
of persecution
inflicted
never leaving
her awareness
in layers
of the not caring
upon ground
she provides
a place
for humanity
to stand
over and over
again
all source
of inspiration
her gift
of being
unconditional
and providing
life
for all those
around her
raising fists
in the air
earth wins
this round.
Copyright © 2014 Tara Evonne Trudell.
Tara Evonne Trudell studied film, audio, and photography while in college at New Mexico Highlands University. She is a recent graduate with her BFA in Media Arts. As a poet and artist raising f four children, it has become her purpose to represent humanity, compassion, and action in all her work.
Incorporating poetry with visuals, she addresses the many troubling issues that are ongoing in society and hopes that her work will create an emotional impact that inspires others to act. Tara has started a life long project, Border Beads, that takes poetry off the page and transfers it into energy in action by making beads out of the poems. She uses her own poetry as well as other poets to address the crisis on the border.
Grandchildren of the United Fruit Company
by Sonia Gutiérrez
for Claudia González
Knock, knock, knock.
America, there are children
knocking at your door.
Can you hear their soft
knocks like conch
shells, whispering
in your ears?
Weep, weep, weep.
Can you hear
the children whimpering?
Their moist eyes
yearning to see friendly TV-gringo-houses
swing their front doors
wide open.
America, America, America!
The children are here;
they have arrived
to your Promise Land,
sprinkled with pixie dust,
paved with happiness
and freedom.
America, why do these children
overflow your limbo rooms?
Why are the children corralled
in chain-link fences,
sleeping on floors
and benches?
America, did you forget
your ties dressed in camouflage
and suits in that place
called The Banana Republic?
What say you, America?
Please speak. And speak
loud and clear—
so the brown pilgrim
children never forget
the doings
of your forked tongue
and their color schemed
prison's-eye-view.
Nietos de la United Fruit Company
por Sonia Gutiérrez
para Claudia González
Tan, tan, tan.
América, hay niños
tocando tu puerta.
¿Puedes escuchar los golpes
suaves como conchas,
susurrando tus oídos?
Llorar, llorar, llorar.
¿Puedes escuchar
a los niños quejarse?
Sus ojos humedecidos
anhelando ver las puertas amistosas
de Tele-casas-gringas que se abran
de par en par.
América, América, América!
Los niños llegaron;
han llegado a tu Tierra Prometida,
espolvoreada con polvo de hada,
pavimentada con felicidad
y libertad.
América, ¿por qué estos niños
desbordan tus cuartos limbo?
¿Por qué hay niños acorralados
en bardas de alambre,
durmiendo en pisos
y bancas?
América, ¿acaso olvidaste
tus lazos vestidos de camuflaje
y trajes en ese lugar
llamado La República Platanera?
¿Qué dices tú, América?
Por favor habla. Y habla
fuerte y claro—
para que los niños peregrinos
morenos nunca olviden
las acciones de tu lengua viperina
y las esquemas de colores
de sus vistas prisioneras.
Sonia Gutiérrez is a poet professor, who promotes social justice and human dignity.
She teaches English Composition and Critical Thinking and Writing at Palomar College. La Bloga is home to her Poets Responding SB 1070 poems, including "Best Poems 2011" and "Best Poems 2012." Sonia recently joined the moderators of Poets Responding to SB 1070.
Her vignettes have appeared in AlternaCtive PublicaCtions, Mujeres de Maíz, City Works Literary Journal, Hinchas de Poesía, Café Enchilado, Storyacious and forthcoming in Huizache. Her bilingual poetry collection, Spider Woman/La Mujer Araña is her debut publication. To listen to "Grandchildren of the United Fruit Company," visit Poets Cafe on KPFK 90.7 FM Los Angeles's PodOmatic.
Nuestros niños / Our Children
por Jorge Argueta
Nuestros niños
Juegan con trocitos de madera
llevan mariposas en las manos
se levantan con los pájaros
Nuestras niñas cantan
a la ronda
le hablan a las nubes
un día se van siguiendo sus sueños
Nuestros niños y niñas
vuelan
nadan
no le temen a la bestia
Nuestros niños y niñas
son guerreros
son gorriones
tienen vocales y coraje en sus corazones
Nuestros niños y niñas
no son extraterrestres o ilegales
son como los niños y niñas
de todo el mundo
Hermosos como el agua
como el viento
como el fuego
como el amanecer
©Jorge Argueta 2014
Our Children
by Jorge Argueta
Play with small pieces of wood
They carry butterflies in their hands
They rise with the birds
Our children sing
Round and round
They speak to the clouds
One day the go follow their dreams
Our children
Fly
Swim
They do not fear "The Beast"*
Our children
Are warriors
Are hummingbirds
They have voice and courage in their hearts
Our children
Are not aliens or illegal
They are like all children
Of the world
Beautiful
Like the water
Like the wind
Like the fire
Like the sunrise
*The Beast: the train that travels through Mexico to the border.
© Jorge Argueta 2014
Jorge Argueta is an award-winning author of picture books and poetry for young children.He has won the International Latino Book Award, The lion and the Unicorn Award, The Américas Book Award, the NAPPA Gold Award and the Independent Publisher Book Award for Multicultural Fiction for Juveniles. His books have also been named to the Américas Award Commended List, the USBBY Outstanding International Books Honor List, Kirkus Reviews Best Children's Books and the Cooperative Children's Book Center Choices. His new book, Salsa, A Cooking Poem is due for publication in Spring 2015. He also is the founder of two popular poetry festivals, Manyula Children's Poetry Festival and Flor y Canto Para Nuestros Niños y Niñas. A native Salvadoran and Pipil Nahua Indian, Jorge spent much of his life in rural El Salvador. He now lives in San Francisco.
FACES UNDER THE SHADOWS
by Eva Chávez, edited by Raúl Sánchez
We are the bronze skinned people
whose shoulders bear the burden
heavy bags sweet harvest grown
on fertile land
we climb up and down
ten or twelve foot ladders
eight, nine or more than ten hours
our feet know the weight
cold dawn our dry skin cracked
raising sun travels west
to burn our skins
at dusk we count our full bins
our backs bent all day
we work under our own shadow
picking asparagus onions
everyday we take that soil on our skin
orchards full a table full
bounty of the earth
your family and mine partake
the sweat, and sweetness of our labor
we are not afraid of hard work
others avoid
they prefer to criticize us
we take care of the land
we tend this American soil
where we live and grow
under the shadows proud and brown
as the soil, the land watching us grow
ROSTROS BAJO LAS SOMBRAS
por Eva Chávez, editado por Raúl Sánchez
Somos gente de bronce
cuyos hombros soportan la carga
bolsas pesadas, llenas de fruta dulce
cosechada en tierra fértil
subimos y bajamos escaleras
escaleras de diez o doce escalones
ocho, nueve o más de diez horas por día
nuestros pies y hombros conocen la carga
el amanecer frío seca nuestra piel ya agrietada
el sol créce en su camino hacia el Oeste
para quemar nuestra piel
al atardecer contamos cuantas cajas cosechamos
durante el día, nuestras espaldas permanecen dobladas
trabajamos bajo nuestra propia sombra
piscando cebollas, esparragos
todos los días la tierra se queda en nuestra piel
huertos llenos una mesa llena
generosidad de la tierra
para tu familia y la mía
disfrutando el sudor y la dulzura de nuestra labor
no tenemos miedo al trabajo duro
lo cual otros evitan
y prefieren criticarnos
nosotros cuidamos de nuestra madre tierra
cuidamos esta tierra americana
donde vivimos y crecemos
con mucho orgullo bajo nuestras sombras de bronce
tal como la tierra que me ve crecer
Eva Chavez. I arrived to the USA in 2005, at the age of 18. I worked for five consecutive years picking fruit in Washington State. This was my first job in the United States after emigrating from Mexico. On average, I worked eight to ten hours per day, six to seven days a week. All that hard work in the fields taught me all the value that immigrants bring to this country. This hard work also taught me the importance of education.
My educational journey started about four years ago at Yakima Valley Community College (YVCC). In those four years I progressed from the ESL program, to Adult Basic Education (ABE), to completing my GED, to enrolling in the DTA in Business Administration in YVCC and CWU. My experiences working in agriculture are motivating me to reach my educational goals, but also they inspired me to show to others the importance of the immigrant workers in the USA.
Therefore, one of the fuels that moves my art expression comes from the sweat that immigrants workers leave on this American soil. This is also part of the fuel and motivation that keep me involved in the activism for immigration.
Raúl Sánchez comes from a place south where the sun shines fiercely. He is a translator currently working on the Spanish version of his inaugural collection "All Our Brown-Skinned Angels" that was nominated for the 2013 Washington State Book Award in Poetry. He is also working on a Long Poem Memoir a project for the 2014 Jack Straw Writers. He is a mentor for the 2014 Poetry on Buses program sponsored by Metro King County and 4 Culture. http://beyondaztlan.com and http://moonpathpress.com
Poetry is
by Tom Sheldon
Poetry is a cold wind on an
empty street.
Its a symphony of broken glass
with letters falling.
Poetry is open doors,and open hearts.
Its the smell of blood on
home ground.
Poetry is the song of a thousand birds
in color.
It is the first born,the first kiss
and the first tree.
Poetry is the smell of fresh paint
on a sagging wall.
Poetry is tears ,and ink
blended.
A communion of thought form,
and mystery.
Poetry is a law that reaches deep
inside.
It is the light in the dark
a breathing prayer.
Poetry is winter dust sparked
by a spring rain.
Poetry is.
My name is Tom Sheldon and I was born and raised in New Mexico and come from a large Hispanic family. I have always loved and appreciated the gift of creating in various forms. Southwestern themes and landscapes are among my favorites and the wonder and beauty of the the history her and my surroundings here continually inspires my artwork. Thank you greatly for considering my words. Mil gracias.