Manuel Ramos

The new year has begun and many breathe a sigh of relief. Surely, 2017 will be better than 2016? So many inspirational people passed on, so many negative incidents, so much gritty dust dulling the shine of the collective optimism generated by historic events of the past eight years. It can only improve, no?

We are in a tricky period. We trust that the cycle will reverse itself and brighter days are on the horizon. And yet ... an underlying uneasiness stays with us and a gray foreboding swirls in the January mist as we approach the beginning of a new era. At the same time, good people continue with their good ways. The light of hope dims but does not succumb to the darkness of hate, greed, and fear. Encouraging signs emerge from the shadows. Voices are raised, opposition is organized, and candles are lit.

The various contributors to La Bloga share these mixed emotions with our readers. We're not ones to dwell on the dark side and neither are we Pollyannas with heads buried in sands of denial. We are involved in doing what we can to right the ship that has listed to the starboard side, each in our own way, even if we occasionally lapse into frustration or anger.

It may seem trivial to celebrate "bests" from a year like the one we just went through. I would argue these are precisely the times when we should praise those who deserve it and dance with them in the spotlight of success. With awareness of the complicated nature of human endeavors and the march of time, and in the face of all the bad news, we summon our spirit to look back at 2016 and cite positive examples of noteworthy people and their accomplishments.

I asked our contributors to share with our readers something from 2016 that they would consider best. My guidelines to our writers were simple. Pick

a best whatever:

book, movie, song, art, meal, exhibit, interview, joke, grandchildren's story

, etc

. I'll publish

the

choices on January 6, which happens to be El Día de los Tres Reyes, a day for gifts and reminders.

Here are the responses I received. These aren't necessarily life-changing or history-making, but I believe they demonstrate the energy and attitude that will be necessary in the days, months and years to come.
AMELIA MONTES



I'm sending you two posts I published in 2016.

1. The first one is about the death of my mother on January 18, 2016. She was 92 years old. I miss her very much; at the same time that we knew she was tired and ready to go. No regrets. We did right by her. We were there with her as she traveled to another dimension. Her death was and still is a transition for all of us. Here is my post in honor of mi mama:


http://labloga.blogspot.com/2016/02/attending-to-birthing-with-dying.html
Amelia and Her Mother
Latina Artists of Nebraska
2. My second posting is much more festive. I'm choosing this one because often the midwest is not seen as a Mexican or Latina/Latino area of the country. But it is. We are everywhere. This posting celebrates five Latina artists who are doing work in the midwest. Their work is featured in a fabulous exhibit entitled Mujeres at The Museum of Nebraska Art (MONA) in Kearney, Nebraska. It is still on display until February 12, 2017.
DANIEL OLIVAS

I will not recount the anguish felt by me and my loved ones when Trump squeaked to victory. We will fight on the best we can. Since this is about something positive, let me say that the last few years brought so many wondrous works of literature by so many talented Latinx authors. We are a talented and prolific people! And at La Bloga, we try to sing the praises of such talent to make up for the dearth of coverage from many news outlets.
Though I hate to offer but one book recommendation, I will do so only because of the lack of time and space. One of my favorite books from the last couple years is by Joy Castro who is the author of two memoirs and two post-Katrina New Orleans literary thrillers. She teaches literature, creative writing and Latino studies at the University of Nebraska at Lincoln, where she directs the Institute for Ethnic Studies. I fell in love with her story collection How Winter Began (University of Nebraska Press, $19.95 paperback). As I noted in my El Paso Times interview with the author, with these stories, Castro lulls the reader with beautiful, exquisitely crafted sentences. But before we realize it, she reveals the dark contours of her characters' lives – lives that are often desperate and broken, but not without hope for something better.
ERNEST HOGAN
This last year seems more like a decade -- a hell of a lot happened, some of it was good, really. The high point for me was publishing a new edition of High Aztech, but mostly I've been delighted that I have a career as a writer and artist that keeps me busy even if hasn't made me rich yet. Ten years ago I didn't think I had a career, and now it just looks like the beginning. Who knows what it'll be like ten years from now.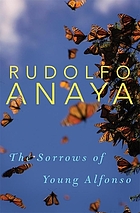 MELINDA PALACIO

It was such a crappy year. This was the year my muse and grandmother died. In the spirit of pulling myself and our readers together, I can think of at least one or two favorite books of 2016, both of which I fully endorse and one of which happens to include by written endorsement or blurb, The Mexican Flyboy by Alfredo Véa and The Sorrows of Young Alfonso by Rudolfo Anaya. My blurb on Anaya's book was included. I don't often write blurbs, but was honored to write one for el maestro Anaya and I loved the book.

For Anaya's book, I wrote:
"This is a gripping glimpse into a writer's early yearnings, a story to end all stories. Rudolfo Anaya offers a mystical meditation woven into an epistolary narrative that is both familiar and extraordinary."
MICHAEL "EM" SEDANO
In an eventful 2016, a road trip with Jésus Treviño to visit with Rudolfo Anaya stands out as the shiniest moment, the best. The three of us spent hours talking about Anaya's recent works. I was especially happy when Rudy remarked how much he liked my La Bloga review of The Old Man's Love Story, telling me he shared it with friends, and remarked how "you got it."
The excitement of that visit and road trip extended beyond our interviews and Jésus' Latinopia videos of the interviews. A few months later, Treviño's book, Return to Arroyo Grande, won a National Book Award.
As it happened, another memorable highlight of the year arrived in February, when my wife and I hosted the launch party for Return to Arroyo Grande in a backyard floricanto at Casa Sedano.
Sedano, Anaya, Treviño, Oso
Treviño Reading
RENÉ COLATO LAÍNEZ
!Bienvenido 2017! After Election Day, my students were shocked to discover who was elected as the next president of the United States. They drew pictures and wrote about their feels and fears for an uncertain future.

But there were also good news in California. It was a long wait but after 18 years of "Only English Instruction", Bilingual Education was back in California. Proposition 58 passed with flying colors. As an educator, I am happy for our children to have more dual language and bilingual classes. This is a big demonstration that we are fighting for diversity. It was a great victory, ¡Que viva la educación bilingüe!
XÁNATH CARAZA


It was twelve years ago the first post on La Bloga came to light. Doce años de publicaciones se logran with a strong team of writers, La Bloga continues to bring a myriad of news stories to the world. De qué escriben los blogueros? Here are some palabras of this team of diverse Chicanos and Chicanas. May these words fill you with strength, dear La Bloga readers.
OLGA GARCIA ECHEVERRIA
Like so many other people, the presidential election of 2016 knocked the wind out of me. My students at both my job sites were also highly distressed. I work with mostly Latin@ students, most of which are children of immigrants or immigrants themselves. The blog I have selected as my favorite for 2016 is one I did on a letter exchange between my college students at Cal State LA and 5th graders at New Academy for Science and Art. The exchange consisted of post-election letters of support where students lifted each other's spirits. What a pleasure to work with these students and what a pleasure to write this blog about their interaction.
http://labloga.blogspot.com/2016/11/you-are-not-alone-uplifting-students.html
MANUEL RAMOS
On a personal level, 2016 was a year of immense change. I think I've finally acclimated to retirement (it's only been two and a half years.) No need to go into detail about what it really means to me; suffice to say life is not what it was three years ago, and that's okay. I've experienced some health setbacks, and these challenges have tested me and, unfortunately, those

closest to

me. On the other hand, I keep to a rigorous exercise schedule, try to eat right, and I stay involved with our community, family, and friends. Actually, overall, I fe

e

l pretty good. Flo and I are making plans for travel, projects, goals and more changes, and that's always exciting.
So, what's the "best" about 2016? Well, one obvious answer is that I'm still writing -- just released my ninth novel, and coming down the pike are at least two short stories for upcoming anthologies and a "group" writing project that will be unique, to say the least, if it comes to pass. I

've been

invited to speak about Chicano Noir at literary events, libraries and universities

;

my publisher just asked if I had another manuscript ready yet

,

and I was able to answer, well, no, but I do have the germ of an idea and about 4500

words

for another book, and that's okay, too.
But I have to say that, upon reflection, the best thing about 2016 is the wide range of books t

hat are

produced under the label of Latinx Literature. It's a readers' bonanza, produced by a deep well of writers, that gives me hope for the future of the country and our collective well-being

.
A Sample Shelf of Recent Books By or About La Raza
A lot has changed since we

ignited

La Bloga's engine. Look back at

our

archives and you will see what I mean. The various contributors to La Bloga continue to impress with their knowledge and understanding of the cultural landscape -- click on any of the links

provided above by my colleagues for proof.

Every week, new authors and books are introduced -- and in every possible literary permutation. From high drama to romantic comedy; political argument to graphic novel; genre to mainstream; gender-bending to immigrant novella; museum art to street graffiti -- we

've had

it all, and much more. During this past year, we've highlighted everyone from Anaya to Véa,

poets of resistance to a piñata artist

, gluten free-recipes to bilingual children's books, public art to brilliant photography. And we have only just begun. Th

ank you, contributors and readers.

¡Qu

é

viva La Bloga

!
Later.