Melinda Palacio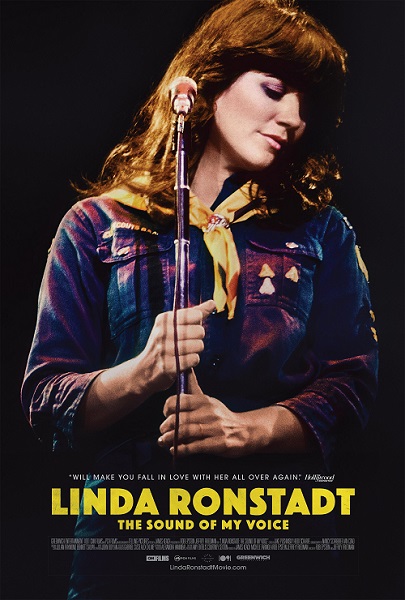 Linda Ronstadt: The Sound of My Voice
On Wednesday, I went to see the documentary, Linda Ronstadt: The Sound of My Voice. I can't say enough good things about this film. The only shortcoming might be the shortness of clips of her singing. However, longer samples of her songs would turn the ninety-five minute run time into something too long for one sitting.
For a fan such as my late grandmother, a longer film would be welcome. Linda Ronstadt's music was the soundtrack of my childhood. Sometimes, my grandmother would play her albums on repeat the entire day. She never tired of Linda.
As a female pioneer and rockstar queen, Linda Ronstadt was versatile enough to own every single genre of music. She is the only woman with 5 platinum albums and one year she appeared at the top of the carts in Pop, R&B, and Country, all at the same time. Her voracious variety in musical taste, echoed the smorgasbord of music in my grandmother's house in Huntington Park, where I grew up. Before Ronstadt's double platinum album, Canciones de Mi Padre, my grandmother had no idea Ronstadt was Mexican. She simply loved her voice and enjoyed all her hits, but she especially loved the album that spoke to her in her language.
The documentary shows Ronstadt's determination to produce the album of songs in Spanish for herself. Not being fluent in Spanish didn't stop her. Linda enlisted Rubén Blades to help her with her Spanish diction. The success of the album silenced the record company naysayers.
Yet, for all her determination and success, Linda was lonely and insecure. Another saying comes to mind, It's lonely at the top. I was surprised to learn that with all of her success, awards, and a voice that was liquid gold, she doubted herself. Although I can relate to her insecurities, it's hard to understand the feeling in someone who is so talented. During the film, I kept waiting for the moment in the film when there is a fall from grace or when the hit records hit a dry spell, but she had a stellar career. Every time she ran into roadblocks, she insisted on knocking them down. She proceeded with her vision, and never failed to produce an award-winning album.
Of course the absolute heartbreak of the film is the ending and seeing that she has lost her vocal range (and most of her voice) to Parkinson's, a disease her mother also had. Music is such an important part of her life. To have been one of the greatest singers and to have the gift taken away is devastating and tragic. The testament to her grit is how she is able to share the heartbreak with the world. One can't help but admire her.
The few months I wasn't able to walk after I broke my leg left me yearning to do more than hobble. I couldn't wait to skip, run, dance, sprint again. The ordeal was a tough lesson in humility. When I hurt my arm in yoga, I couldn't play guitar and I became agitated with thoughts that I might have to give up something I loved. The old saying about not appreciating what you have until you no longer have it is the toughest lesson. I was lucky to recover from my injuries. Linda Ronstadt graciously shares how hard it is to lose the thing she loves the most: singing with her family. What courage and grace it takes to share such a vulnerable moment with the world.