Introducing a

few

new books for your late summer reading, including the latest from one of La Bloga's faves, Martin Límon

, and bilingual science mysteries just in time for back-to-school.

A

lso

, in case you might want to catch me reading from my newest book, here's a list of upcoming events, celebrations, and literary happenings. Hope to see you at one.

Manuel Ramos
New Books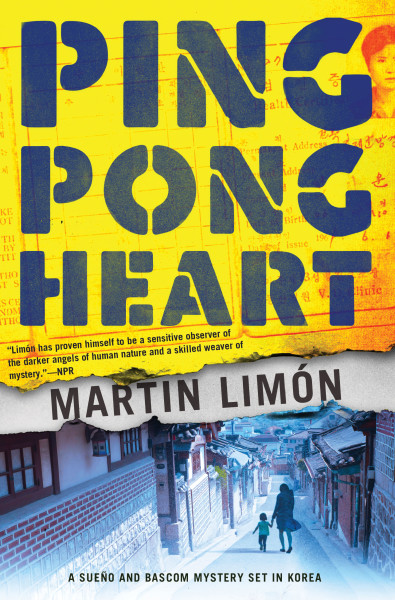 Ping Pong Heart
Martin Límon
Soho - June

[from the publisher]
South Korea, 1974. US Army CID Sergeants George Sueño and Ernie Bascom are assigned an underwhelming case of petty theft: Major Frederick M. Schulz has accused Miss Jo Kyong-ja, an Itaewon bar girl, of stealing twenty-five thousand won from him — a sum equaling less than fifty US dollars. After two very divergent accounts of what happened, Miss Jo is attacked, and Schulz is found hacked to death only days later. Did tensions simply escalate to the point of murder?

Looking into other motives for Schulz's death, George and Ernie discover that the major was investigating the 501st Military Intelligence Battalion: the Army's counterintelligence arm, solely dedicated to tracking North Korean spies. The division is rife with suspects, but it's dangerous to speak out against them in a period of Cold War finger-pointing. As George and Ernie go head-to-head with the battalion's powerful, intimidating commander, Lance Blood, they learn that messing with the 501st can have very personal consequences.

Martin Limón retired from military service after twenty years in the US Army, including ten years in Korea. He is the author of nine previous books in the Sergeant George Sueño series: Jade Lady Burning, Slicky Boys, Buddha's Money, The Door to Bitterness, The Wandering Ghost, GI Bones, Mr. Kill, The Joy Brigade, and Nightmare Range. He lives in Seattle.
Gabrielle Lucille Fuentes
Touchstone - September
[from the publisher]
"A searing, beautifully written novel that captures the exhilaration and dangers of 1970s post-Franco Spain. Mosca, a bitterly jaded young woman, goes on a harrowing search for her missing brother—and the history that destroyed their lives. Violent, heartbreaking, unforgettable, The Sleeping World is a stunning debut" (Cristina García, author of Dreaming in Cuban).
Spain, 1977. Military rule is over. Bootleg punk music oozes out of illegal basement bars, uprisings spread across towns, fascists fight anarchists for political control, and students perform protest art in the city center, rioting against the old government, the undecided new order, against the universities, against themselves…
Mosca is an intelligent, disillusioned university student, whose younger brother is among the "disappeared," taken by the police two years ago, now presumed dead. Spurred by the turmoil around them, Mosca and her friends commit an act that carries their rebellion too far and sends them spiraling out of their provincial hometown. But the further they go, the more Mosca believes her brother is alive and the more she is willing to do to find him.
The Sleeping World is a beautiful, daring novel about youth, freedom, and doing whatever it takes to keep a family together, in a nation whose dead walk the streets and whose wars never end.
One Minute Mysteries: More Short Mysteries You Solve With Science!Misterios de un minuto: ¡Más misterios cortos que resuelves con ciencias!
Eric Yoder and Natalie Yoder
Science, Naturally

-

August

[from the publisher]
Become a science sleuth with the bilingual edition of our award-winning book, One Minute Mysteries: Short Mysteries You Solve With Science! Each one-page mystery is featured in both English and Spanish.

Mysteries in earth, space, life, physical, chemical and general science are included. Now you can solve science brainteasers in two languages!

Conviértase en un genio de la ciencia con está edición bilingüe de nuestro premiado libro, Misterios de Un Minuto: ¡Más misterios cortos que resuelves con ciencia! Cada misterio de una página es disponible en inglés y español.

Incluidos están misterios sobre la tierra, el espacio, la vida, la física, la química y las ciencias naturales. ¡Ahora usted podrá resolver estos rompecabezas en dos idiomas!

These mysteries have a clever twist—you have to be a super sleuth, tapping into your science wisdom and critical thinking skills to solve them. Each story takes just one minute to read and challenges your knowledge in a variety of science disciplines. These brainteasers keep you engaged and eager to learn more. Written by the same father-daughter team that brought you the award-winning 65 Short Mysteries You Solve With Math!, this entertaining and educational book is great for kids, grown-ups, educators, and anyone who loves good mysteries, good science, or both!

Estos misterios contienen un giro impredecible, debes ser un súper detective, utilizando tus conocimientos científicos y pensamiento crítico para resolverlos. Cada historia se lee en solo un minuto y te desafía sobre una variedad de disciplinas científicas. Estos enigmas te mantendrán cautivado y ansioso de aprender más. Escritos por el mismo equipo de padre e hija que les presento el premiado libro de los ¡Misterios cortos que resuelves con matemática! Este entretenido y educativo libro es ideal para niños, adultos, educadores, o cualquier persona que disfrute de buenos misterios, buena ciencia, o ambos.
_______________________________________________________________________________
My Schedule of Upcoming Events
(

more to be added)
August 14:

Reading, talking, signing books at the RUDOLFO "CORKY"GONZALES LIBRARY, 1498 N. Irving Street, Denver., 2:00 P.M. - 4:00 P.M. I plan to read from my upcoming novel

My Bad: A Mile High Noir.
September 10:

COLORADO BOOK FESTIVAL, Central Library, 10 W. Fourteenth Ave. Pkwy, Denver, 11:00 A.M. - 4:00 P.M. I'll have a booth with books and I'm on a panel:

Mug Shots: Creating Memorable Sleuths ,

1:15 P.M. - 1:55 P.M.,

with fellow mystery writers

Rex Burns, Jennifer Kincheloe,

and moderator

Bruce Most.
September 24-25:

JAIPUR LITERATURE FESTIVAL, Main Library, 1001 Arapahoe Ave, Boulder, 9:00 A.M. - 7:00 P.M. I'll be part of two presentations:

Of Murders and Mysteries: Stories Behind Stories,

with

Margaret Coel

and

Laura Pritchett;

and

Race, Class and Gender

with

Michael Patrick MacDonald, Amrit Kaur Lohia, Andrew Lam

and

Marcia Douglas

- times to be announced.
October 14-15:

ROCKY MOUNTAIN LITERARY FESTIVAL

, Mount Vernon Country Club, Evergreen. I'll be at this unique festival both days; my presentation is set for 11:30 A.M. on October 15.
November 3:

TATTERED COVER BOOK STORE, 2526 East Colfax Avenue, Denver, 7:00 P.M. The celebratory launch for

My Bad: A Mile High Noir,

my latest from Arte Público Press. Hope you can make it.
Manuel Ramos is the author of several novels, short stories, poems, and non-fiction books and articles. His collection of short stories, The Skull of Pancho Villa and Other Stories, was a finalist for the 2016 Colorado Book Award. My Bad: A Mile High Noir is scheduled for publication by Arte Público Press in September, 2016.